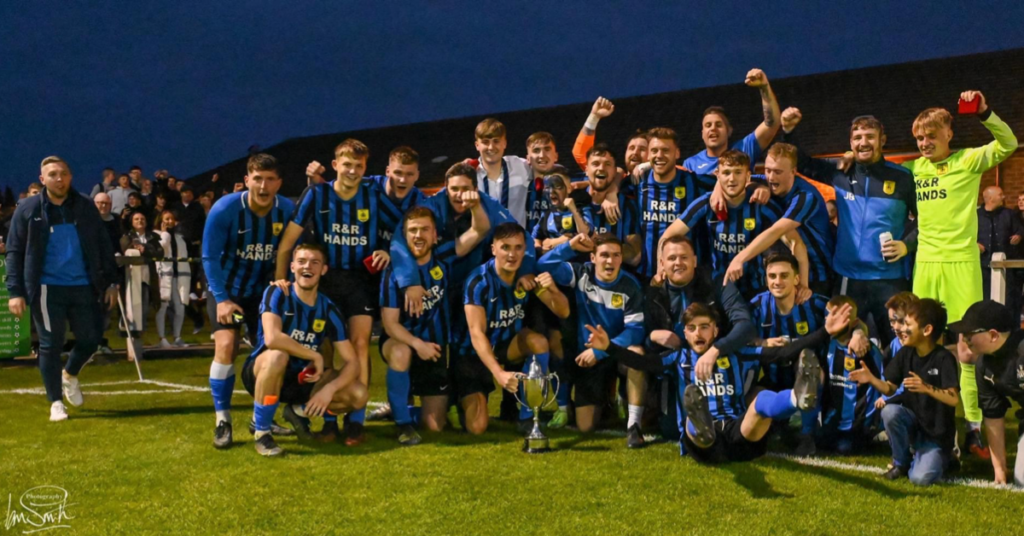 Ryton & Crawcrook Albion won the 2022 Ernest Armstrong Memorial Cup with a 3-0 penalty shoot-out win over Newcastle University after a 1-1 draw in the Final in Birtley on Friday 13th May 2022.
---
Film: The Final
Watch the special film produced following the historic triumph.
---
Reaction
Manager Daniel Iredale's reaction to the dramatic win, speaking to Charlie Bennett post match.
---
Full Match
Watch the full replay of the final in Birtley.
---
Gallery: Pre Match
By Colin Robertshaw & RACA Images.
---
Gallery: Match
By Ian Smith & Colin Robertshaw.
---
Gallery: Post Match
By Ian Smith, Colin Robertshaw & RACA Images.
---
Match Report
Read Charlie Bennett's report from the final.
You do not have to play well to win cup finals.

And, for the 250+ travelling RACA contingent who made the journey down to Birtley, the team's performance was the last thought on their mind when Josh Hammett's penalty cannoned off the post to clinch a historic Ernest Armstrong Memorial Cup victory.

However, the wild celebrations that followed looked set to be postponed as Albion trailed for 89 out of the 90 minutes of normal time.

Three buses full of supporters, flashy pre-match suits and barrel loads of booze were countered after just one minute when Finn Hebron smashed a right-footed shot home from outside the box to put the Uni in front.

Albion were shell-shocked and struggling to settle into the game. Tolu Osiyemu looked threatening every time the Students were in the final third whereas black-and-blue shirts struggled to find one another.

Osiyemu appeared to break through on 13 minutes but Lee Waugh recovered well to put a tackle in. The Uni striker's pace was causing Albion all sorts of problems, and he drew a fantastic save out of Jonathan Ball after darting past Callum Turnbull on the right flank.

Midway through the half RACA settled on the ball, but still struggled to create a clear-cut chance despite their endeavour. Uni were happy to soak up the pressure, allow Albion to make an unforced error and spawn a counter-attack.

Dan Iredale's men created their first opportunity on 42 minutes when Paul King saw a header comfortably saved by Edward Claxton.

When Konner Lamb – RACA's only real outlet in the opening 45 minutes – was hacked down just outside the box, a huge roar erupted from the NE40 faithful. Rhys McLeod stepped up but saw a vicious strike deflected wide for a corner.

The referee blew his whistle to confirm Albion's half-time deficit and there were no reactionary changes at the interval.

If Osiyemu was the danger in the first half, that honour fell to Jack Butler in the second. The Uni winger stung Ball's gloves on 51 minutes and looked like the most dangerous player on the pitch.

A big, big chance fell his way moments later when he ran the length of the Albion half – free as a bird – with the goalkeeper at his mercy. However, Butler lifted his attempt over the crossbar… a missed chance that would prove costly.

Ryan Redford had the ball cut back to him from six yards out but he, too, blazed over the bar. The Students were enjoying their best spell in the game but needed to capitalise while momentum was in their favour.

Albion regained control of the midfield battle on the hour mark, with Tom McIntyre key in doing so. While RACA were sloppy in possession throughout, that criticism could not be levelled at the stylish central midfielder – who provided calmness to a stormy occasion.

A frustrating opportunity went begging for Albion when Lamb cut in from the left flank. He squared to Rees Greenwood – introduced from the bench minutes earlier – but, instead of shooting, tried to pick out McLeod. The winger was tackled before getting his shot away and a rare chance was wasted.

Loud appeals for a penalty were rejected on 70 minutes when Stephen Pennington clumsily brought Turnbull down off the ball. The referee waved away the protests – much to the anger of Iredale and his dugout.

Albion were on top but a lapse in concentration almost cost them the game. Again, it was Butler who charged clear of the backline but he was denied a certain goal by Ball's outstretched paw. If any save could be deemed as valuable as a goal – it was this one.

Andrew Brown was forced off in place of Oliver Symons, who had eight minutes to make an impact…

And oh boy, did he do just that.

With Albion pressing for an equaliser, the right-back charged down the line and put a low cross into the danger area. Symons did not find a black-and-blue shirt… but he did not have to.

The ball ricocheted off a Uni defender and into the net to send the NE40 Army into raptures. Blue flares were fired and an explosion of emotion emanated around the Birtley Sports Complex as a penalty shoot-out had been salvaged.

Lamb had a half-chance to snatch the game at the death but Albion were just relieved to force the game to sudden death.

Captain Turnbull confidently walked up and sent Claxton the wrong way. 1-0 RACA.

Uni captain Pennington nominated himself and looked the complete opposite. With a horde of Albion youngsters behind the goal urging him to fail, he skied his effort high and wide.

Some say the ball has still not landed.

Greenwood – a man who has played in the Premier League – looked unfazed by the situation. His spot-kick was fired into the side-netting with pace and, although Claxton guessed correctly, he could do nothing to keep the effort out. 2-0 RACA.
Butler should have won Uni the game in normal time and he failed to make amends in the shoot-out. Ball made a fantastic save to tip his shot onto the post and put Albion in the driving seat.

McLeod, similar to Greenwood, has competed at levels beyond the Northern League and his composure reflected that. The 18-year-old looked like he was practising in his garden as he coolly slotted his spot-kick home. 3-0 RACA.

A cup triumph was seconds away as Hammett knew he had to score – or Uni were done. A nervous run-up resulted in his penalty smashing the post and it was all over.

Pandemonium erupted.

A long, 48-game season had concluded with the greatest highlight of all as Ryton & Crawcrook Albion were crowned EAM Cup Winners for 2021-22. Everybody of a black-and-blue persuasion were buoyant as "we are the RACA, the RACA bootboys" echoed around the Birtley Sports Complex.

Play-off heartbreak had evaporated as Iredale and his troops ended a first season on a high to deliver a night that will live long in the memory of Albion supporters.

Newcastle University: Edward Claxton, Noah Neill, Milo Cook, Stephen Pennington (c), Fredrik Garnes, Finn Hebron, Ryan Redford, Timothy Browne (Josh Hammett 73), Tolu Osiyemi (Blake Wood 57), James Coates, Jack Butler. Unused subs: Michael Woods, Daniel Dekanski, Jos Veitch.

Ryton & Crawcrook Albion: Jonathan Ball, Andrew Brown (Oliver Symons 81), Joe Thompson, Thomas McIntyre, Lee Waugh, Callum Turnbull (c), Rhys McLeod, Scott Bamborough, Paul King (Rees Greenwood 55), Shaun Pickford, Konner Lamb. Unused subs: Adam Mooney, Stephen Ardley, Dillon Blake.

Referee: Givi Todua.

Assistant Referees: Lynn Brown, Aidan Hewitt.

Fourth Official: Ryan Morris.

Attendance: 452.

RACA Fans' Man of the Match: Tom McIntyre.
---
More Reviews
Read other reviews of the final.
Mike Snowdon: https://www.northernfootballleague.org/blog/lazarus-lives/
Connor Lamb: https://connorsfootball.wordpress.com/2022/05/13/newcastle-university-vs-ryton-crawcrook-albion/
Mike Amos: https://mikeamosblog.wordpress.com/2022/05/14/may-13-2022-learning-curve/